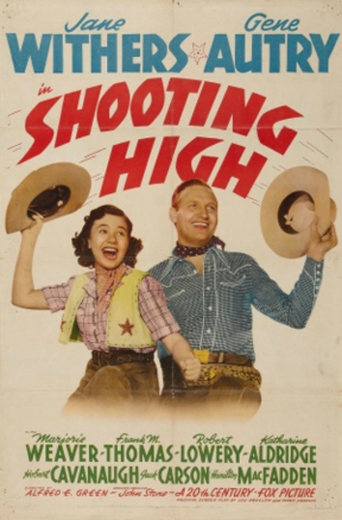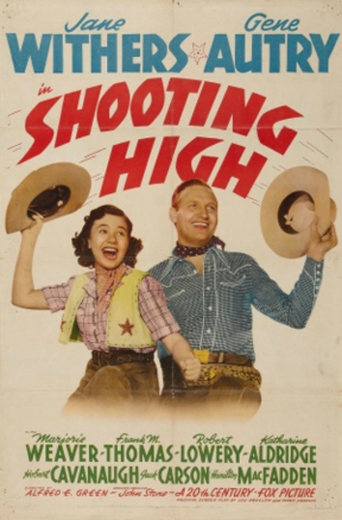 AD:This title is currently not available on Prime Video
Shooting High(1940)
AD:This title is currently not available on Prime Video
A movie company making a film about a famous sheriff hires his grandson as a stand-in for the lead.
Watch Trailer
Show More
Similar titles
Reviews
If you were attentive when the picture opened you would have noticed this was a Twentieth Century Fox film whereas Gene Autry was under contract to Republic Pictures. Having been loaned out to Fox goes a long way to explain how Jane Withers got top billing here even though most viewers would probably consider it an Autry flick. However when you get right down to it, Withers got most of the screen time and her high energy performance as young Jane Pritchard overshadowed just about everyone else in the cast, including Gene.There's another thing about Withers' character, she was probably the most level headed person in Carson Corners, always trying to find a way to patch things up between the Pritchard's and the Carson's, a long running feud that began in the days of Will Carson's (Autry) granddad, Wild Bill Carson. When Signet Pictures arrives in town looking to produce a film about the town's namesake, Jane finds herself an intermediary to a whole host of competing forces, with her main goal of getting sister Margy (Marjorie Weaver) finally married to Will Carson.Since this wasn't a Republic film Gene doesn't have any of his usual sidekicks around for comedy relief like Smiley Burnette, or other regulars like Gail Davis or Mary Lee. But the folks at Fox Studios allowed for a fair number of tunes like 'Wanderers of the Wasteland', 'Little Shanty of Dreams', 'Only One Love in a Lifetime' and 'This Little Old Band of Gold'. The romance angle between Margy and Will plays out successfully following a real bank holdup that replaces the movie script, and young Jane couldn't be happier.Republic must have liked the idea of involving Gene in a film utilizing a movie studio angle because they came up with a couple themselves. There was 1941's "Down Mexico Way" and "Sioux City Sue" in 1946. Probably the biggest surprise for me coming out of the picture was when I looked up Jane Withers' other credits. I knew she looked somewhat familiar but you could have knocked me over with a feather with this one - if you were around in the mid-Sixties and watching nightly TV, you probably saw her just about every night pitching Comet Cleanser as Josephine the Plumber! As I write this she's still alive and will be ninety years old in a couple of weeks - God bless her.
More
I'm sure Herbert J. Yates of Republic Pictures got a bundle for Gene Autry's services over at 20th Century Fox to co-star with Jane Withers in Shooting High. How he felt about being billed second to Jane is another story, but after all 20th Century Fox was her home studio.Jane's the little sister of Marjorie Weaver who Gene is romancing. But the problem is that Gene's a Carson and Weaver and Withers are Pritchards. The Carsons and the Pritchards have been feuding for generations and that fact keeps the two lovers apart.Gene's grandfather was a fighting lawman of the old west and a film company comes to town wanting to film a story about Grandpa. It will star Robert Lowery and Kay Aldridge and will bring a short wave of prosperity to the area.It won't do me any good to continue, but things do work for the young people in the end as they inevitably do. Things do get a bit silly here. Autry does well simply being Gene Autry at another studio. Withers plays a Miss Fix-It in a way to rival Deanna Durbin without singing a note. Jack Carson as the fast talking studio agent really stands out in the film. Saying Carson is fast talking is almost a redundancy.A real bank robbery is worked into the plot giving Gene a chance to be a real hero. Shooting High is an amusing film and no doubt did well in the red state market.
More
Calling this an Autry Western is a bit of a stretch. Gene's in it, but his part is overshadowed by an over-emoting Jane Withers whose boisterous personality is, I think, a matter of taste. Then too, you may need a score card to keep up with the meandering plot that mixes a family feud with a town's survival with a love triangle with a movie shoot, and finally with real bank robbers. If this sounds complicated, it is, but despite the mix, the results are still pretty entertaining. The opening Autry-Withers duet "Wanderers" is delightful. Too bad we don't see more of Charles Middleton (Flash Gordon's Ming the Merciless) whose graveyard voice and Grim Reaper looks always made me cover my little-kid eyes back in matinée days.This was a big studio production, Twentieth-Century Fox, which probably accounts for the odd mix, especially a cast that includes familiar Western types like Tom London and Eddie Acuff, but also city dudes like Jack Carson and Robert Lowery. For viewers interested in seeing how horse operas were filmed, this is an opportunity. Carson plays a fast-talking movie producer come to town to shoot an oater based on the town's most famous cowboy citizen. The behind-the-scenes look is fascinating and I'm sure the crew got a kick out of filming "a movie within a movie". But there's not much hard riding or fast shooting, so for fans of more conventional B-Westerns, this one may be a "skip it".
More
Feuding, singing, a bank robbery all while one of them there moving pictures is bein' made. Gene Autry plays Will Carson in the middle of his family's generation-old feud with the Pritchard's. A motion picture company comes to make a movie about Will's grandfather Wild Bill Carson. When the real star of the movie(Robert Lowery)is scared out of town, Will takes the part of his beloved ancestor. While the movie is being made a real group of crooks rob the bank and guess who's horse catches up with the get away car.Others in the cast: Jack Carson, Jane Withers, Marjorie Weaver, Kay Aldridge and Hobart Cavanaugh. Gene gets to croon tunes like "Little Old Band of Gold" and "Only Love in a Lifetime"; plus he sings a couple of tunes with his 14 year old admirer Withers.
More